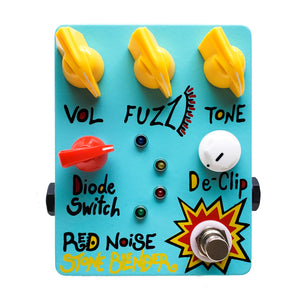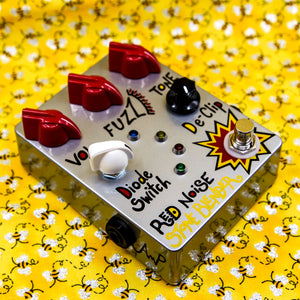 All kinds of tasty tones in there!
The silicon Stone Blender has a huge variety of Tone Bender inspired tones. Each of the clipping diode options provides distinctive and intriguing tones. Plus, the De-Clip knob provides even more tone shaping. This pedal is totally wonderful in its own right, but I also look forward to picking up the germanium if/when they become available again. This pedal makes me and my guitars very happy.
More Than Your Average Fuzz
This fuzz would be formidable with one style of clipping and without the De-Clip control. But with FOUR clipping options and the De-Clip, it does things that no other fuzz (I know of) can do. Fat chords, searing leads, throbbing bass, even overdrive sounds: with some knob twiddling, this thing can do it all.
Love it
Absolutely one of the best fuzzes, especially for live band situations. The de-clip knob is a lifesaver!
Stone Blender
My granddaughter loved the present but she hasn't had a chance to try it out. She loves the idea that it's handmade by music artists.
Awesome Pedal
This is the coolest pedal that I own. I love the controls. I love the sounds that you can get from it. I love the fact that you can use it for guitar and bass. This pedal rips. It has the most individual sound. It boosts the hell out of my signal and rocks like nothing I've ever used before. It gets 5 stars from me. Add this to your arsenal. Support entrepreneurship. You will melt faces.
Additionally, this company's customer service is as unparalleled as their products are unique. Rest assured that you'll receive a prompt response for any question or issue that you may have.